Two dead as Hurricane Fiona devastates Puerto Rico
At least two people have died in Puerto Rico after Hurricane Fiona caused flooding and landslides, and took out the island's entire electricity supply.
Officials said a 58-year-old man died after being swept away by a river in the town of Comerío, while another in his 30s had died in a generator fire.
Heavy rain has continued to lash the US territory, and large portions of the island remain without power.
President Joe Biden declared a state of emergency on Sunday.
The order allows authorities to provide disaster relief.
About 600 National Guard soldiers are currently conducting rescue operations across the island, and some 1,000 people have so far been rescued. First responders from three states are expected to assist in the coming days.
As well as a complete power outage for the 3.3m people living on the Caribbean island, some health centres running on generators were also affected.
Electrical systems in San Juan's hospital complex have since been restored, the health secretary said.
In some areas it will take days for the power to be reconnected, the operator of the island's grid, Luma Energy, said.
The Category 1 storm saw winds reach 86mph (140km/h), before moving westwards to the Dominican Republic. Conditions were deemed too dangerous to make repairs immediately after the storm struck.
Another person was killed on the French Caribbean island of Guadeloupe when his house was swept away by flooding.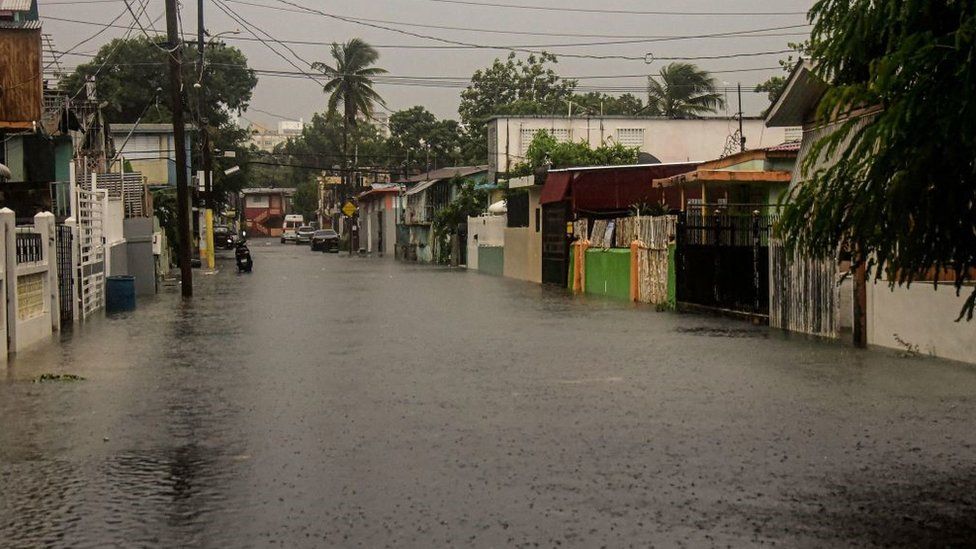 Flights out of Puerto Rico's main airport have been cancelled.
Several ports and roads are also closed, and a highway bridge in Utuado, in the island's central mountainous region, has been washed away by flooding.
Puerto Rico's governor said schools and government agencies would remain closed on Monday. Pedro Pierluisi urged residents to seek shelter as soon as possible.
Hurricane Fiona hit Puerto Rico just five years after Hurricane Maria – the worst in the island's history – caused devastation.
Three weeks after that disaster, only about 10% of Puerto Ricans had electricity. The national grid still remains fragile, with power cuts a daily occurrence.
Fiona is expected to strengthen into a Category 4 storm by Wednesday.
Torrential rains and mudslides have been forecast for the Dominican Republic as the hurricane progresses north-west, with the Turks and Caicos Islands also likely to be affected.