Indian Oil says LIOC will always remain aligned with Sri Lanka's national interests
Chairman Mohapatra says LIOC always poised to leverage its resources and strengthen fuel supplies with support of Govt.
Commissions Sri Lanka's first grease plant in Trincomalee by LIOC and launches premium performance Petrol Engine Oil specially produced for new generation petrol vehicle
MD Manoj Gupta says LIOC remains resolute on its commitment to create sustained long-term value for all stakeholders
Indian High Commission urges LIOC to see the future potential and move towards fulfilling it
Notes LIOC helped India to fulfil promise of energy security to Sri Lanka
Admits LIOC MD Manoj Gupta made him to run for his money after other diplomats viewed Indian High Commissioner as powerful person in SL
Minister Kanchana Wijesekera stresses India and LIOC can help Sri Lanka become an energy hub with export potential
Requests IOC to write off CPC dues to LIOC and also release MD Gupta to CPC after he ends his Lankan term
Lanka IOC PLC Chairman Ranjan Kumar Mohapatra on Saturday reiterated that the company's business priorities for the past two decades was and will always remain aligned with Sri Lanka's national interests and assured further excellence going forward.

He made this remark at the gala celebrations of LIOC's 20th anniversary at Hilton Colombo attended by the Speaker of Parliament, Indian High Commissioner, Cabinet Ministers, State Ministers, officials, private sector and business partners.

"LIOC has been working tirelessly to develop the Sri Lankan market for the past two decades and be a partner in the progress of the national economy," Mohapatra told the ceremony.

He said that the anniversary offers a fresh opportunity to reiterate the company's commitment further the service and product excellence in the future along with greener operations. It is also an opportunity to reflect on the 20-year journey, celebrate the many achievements and the learnings, he stressed.

"LIOC business priorities will always remain aligned with Sri Lanka's national priorities as displayed during the recent energy crisis times including operating the Trincomalee terminal around the clock for two months to ensure adequate supplies. LIOC is always poised to leverage its resources and strengthen fuel supplies with the support of the Government of Sri Lanka," said Mohapatra, who is also the IndianOil Human Resources Director and IndianOil Mauritius Ltd. Chairman.

Commending all LIOC employees for the journey so far in transforming the energy sector in Sri Lanka, Mohapatra stressed: "Our employees belong to our company and also to Sri Lanka."

He also thanked Sri Lankan people for reposing their faith in LIOC. "What we set out for in 2002 we have made people realise that in 2022 it is possible and we can and we care."
Indian Oil Corporation (IOC) owns 75% stake in LIOC and the public float of 25% is held by 13,000 shareholders.

LIOC Chairman also announced the start of the commercial operations of Sri Lanka's first grease plant with 3,000 tons capacity set up by LIOC in Trincomalee with an investment of Rs. 350 million. "This is a proud moment for LIOC as it will save valuable foreign exchange since the hitherto grease requirement of Sri Lanka was entirely imported," added Mohapatra who visited Trincomalee to commission the facility yesterday.

He also officiated the launch of Servo Futura P+ 10W30 Lubricant blended at Trincomalee, which is premium performance Petrol Engine Oil specially produced for new generation petrol vehicles.

Indian High Commissioner Gopal Baglay, pointing to 20 years, said LIOC has come of age adding that teenage is a very exciting time but youth is when you see the potential and move towards fulfilling it. He commended LIOC for winning the trust of Sri Lankans and also thanked the Government of Sri Lanka for its support.

He described the 20-year journey as remarkable especially in 2022 especially in helping Sri Lanka overcome its fuel crisis. He likened O in Oil for opportunity and C in Company to challenge and said LIOC have risen to the occasion converting challenges to opportunities and in doing so the company helped India to fulfil a promise of ensuring energy security to Sri Lanka.

He added that LIOC has a major role to play going forward as well with the proposed development of Trincomalee oil tank farm in partnership with Ceylon Petroleum Corporation for further energy security.

On a lighter vein, Baglay recalled that when he assumed office in Sri Lanka many diplomats said that the Indian High Commissioner in Sri Lanka is a very powerful person. "But I can say that Manoj Gupta (LIOC Managing Director) gave me a run for my money," said Baglay, erupting the audience at anniversary celebrations into laughter.

Power and Energy Minister Kanchana Wijesekera on behalf of President Ranil Wickremesinghe and the Government congratulated LIOC for its 20th anniversary and thanked LIOC for its contribution to the country. He thanked India for $ 700 million credit line and LIOC continued support of the CPC in the difficult economic situation.

He said LIOC is a good trademark of India Sri Lanka bilateral corporate relationship. He said Sri Lanka and India can collaborate further in terms of ensuring energy security especially in terms of creating an energy hub that exports petroleum products to the region.

Minister Wijesekera concluded his remarks with two requests to the IOC. One was to release its Lankan Managing Director Gupta to CPC after he completes his term in Sri Lanka. The other request was IOC as the parent will set off the dues from CPC to LIOC.

Managing Director Manoj Gupta said LIOC was extremely fortunate and humbled to be marking the 20th anniversary which he described as a unique milestone. He said it has been an incredible journey full of challenges and success and it was a testimony of LIOC's vision, entrepreneurship spirit and commitment of founders and leaders. He also said LIOC prides itself on its diversity and inclusivity.

"With utmost humility I would like to express my sincere most gratitude for the trust placed in LIOC over the years by our value stakeholders including the Government of Sri Lanka, shareholders, employees, export houses, retail customers, business partners and the entire Sri Lankan community by and large," he said, adding: "We remain resolute on our commitment to create a sustained long-term value for all our stakeholders," Gupta added.

It was pointed out that as prospects remain promising LIOC is confident of a brighter future under the aegis of experienced and versatile Chairman and the Board of Directors.

"We are relentlessly pursuing the unparalleled value creation in an enduring pledge to serve the people of Sri Lanka."

Gupta also thanked and commended the Government of Sri Lanka, Ministry of Power and Energy, the Central Bank for constructive approach and inclusive decision making in handling various industry issues in most challenging circumstances.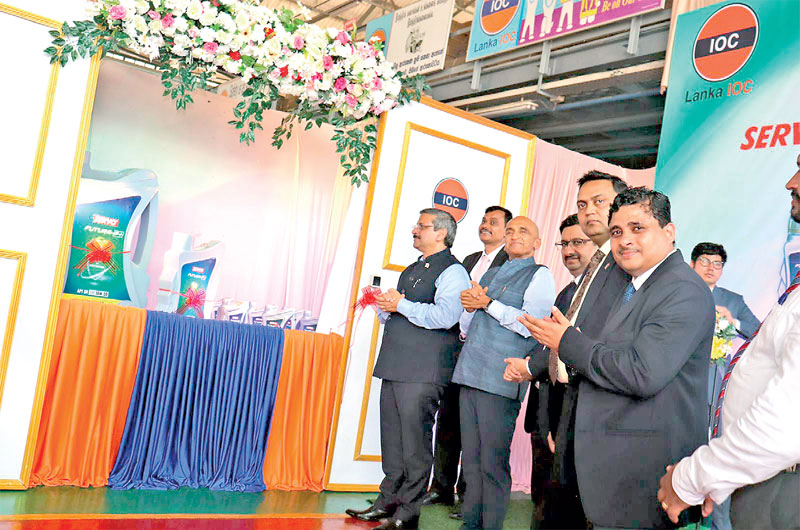 Launch of new premium performance Petrol Engine Oil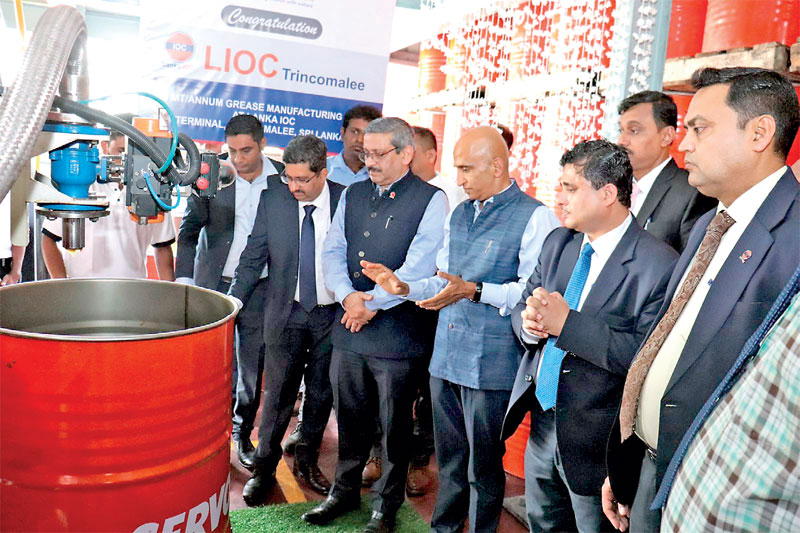 Commisioning of grease plant in Trincomalee
-DailyFT