First step towards a Megxit reconciliation
There's hope that the relationship between the royal family and the Duke and Duchess of Sussex could be on the mend. But royal commentators are still sceptical on whether it would mean an end to Megxit.
The couple, who made a departure from royal duties in 2020, seem to have stepped back into the family fold following the death of Queen Elizabeth II last week.
In his first speech following his accession to the throne, King Charles III appeared to hold and olive branch out to the wayward royal couple.
"I also want to express my love for Harry and Meghan as they continue to build their lives overseas" he said.
A royal correspondent for GB News, which is streaming the Queen's funeral internationally, said the King's phrasing was interesting.
Correspondent Cameron Walker said the "overseas bit is significant" because it meant King Charles saw them as family but not as senior working royals.
He said it also alluded to the fact that "King Charles is very much going to create this slimmed down monarchy which we've heard so many stories about in recent years."
Nonetheless Prince Harry appeared to return the olive branch during a touching tribute to his grandmother the Queen.
In his statement, written on his Archewell website, Harry said "we now honour my father in his new role as King Charles III."
Harry also described the Queen as a "guiding compass" who was already "sorely missed".
But titles still appear to be a point of contention between the Sussexes and The Firm.
Under royal rules, the monarch's grandchildren automatically become princes or princesses of the realm.
With Harry's father Charles as king, Harry and Meghan's children, Archie, 3, and Lilibet, 1, are now eligible to receive those titles.
It follows a tell-all interview with US talk show host Oprah Winfrey (prior to Lilibet's birth) where Meghan claimed that Archie would not be given the title of prince because of his race.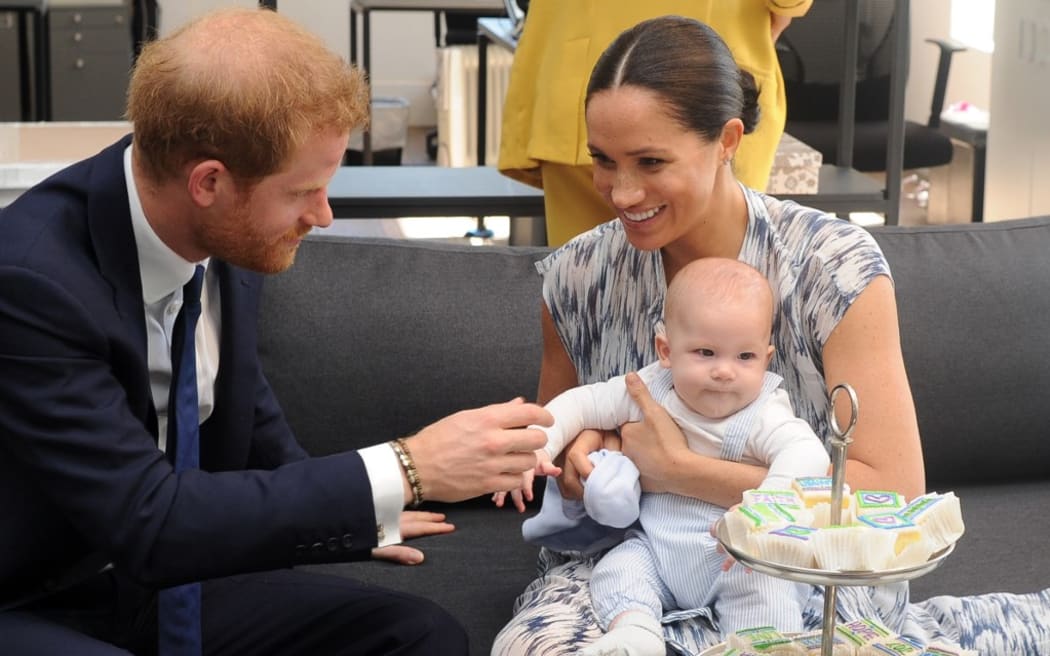 The Duke and Duchess of Sussex with Archie in 2019. Photo: AFP
But the rules of succession dictated he (and subsequently Lilibet) were too far down the line to be eligible at that point.
However, although the children are now able to inherit the titles, the Royal Family website remains unchanged.
Walker said it was interesting that it had not been updated.
That despite it swiftly updating the titles for William and Kate, whose titles will now be the Prince and Princess of Wales. Titles formerly held by Charles and the brothers' mother Diana.
The new Prince of Wales also extended an olive branch to his brother on Saturday, when he invited the Sussexes to join the Waleses on a walkabout to meet well-wishers and view floral tributes outside Windsor Castle.
It was the first time the couples have been pictured side by side since March 2020, when they were seen together at the Commonwealth Day service.
Cameron Walker, suggested the joint appearance means they want to mend the wounds.
"From my understanding and from speaking to a source inside Kensington Palace, it was actually the Prince of Wales' idea, and invite, for the Duke and Duchess of Sussex to join him and Catherine on that walkabout outside of Windsor Castle," he said.
Royal commentator Richard Fitzwilliams also said it could be the first step towards reconciliation, but that "their body language did seem tense."
Harry and William have since walked side by side during a sombre procession in which the Royal Family followed the Queen's coffin from Buckingham Palace to Westminster Hall.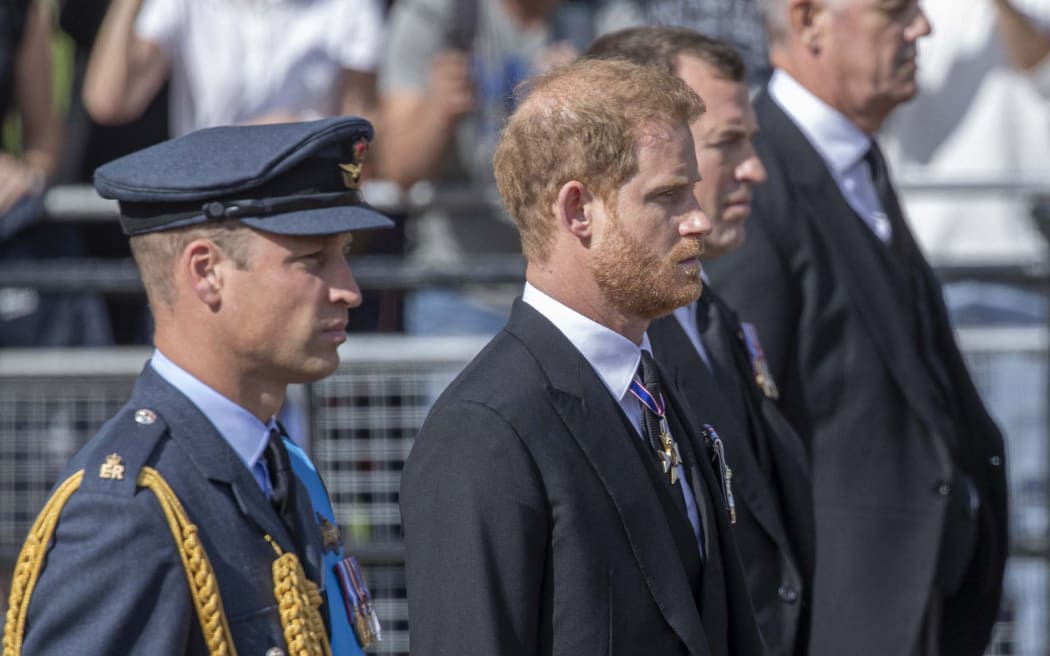 William, Prince of Wales (L) and Prince Harry, Duke of Sussex walk behind the coffin of Queen Elizabeth II, borne on gun carriage, during a ceremonial procession from Buckingham Palace to Westminster Hall in London, United Kingdom on 14 September 2022. Photo: Anadolu Agency via AFP
As a non-working royal, Harry has also been hit with another blow. The Prince is not allowed to dress in military uniform to pay his respects to his late grandmother.
Only working members of the royal family who hold military rank are allowed wear military uniforms at ceremonial events.
But an exception has been made for the Queen's son and fellow non-working royal, Prince Andrew.
However, Fitzwilliams pointed out the Duke of York will only be able to wear the uniform while partaking in his mother's final vigil. At others event he is not expected to be in uniform.
But where a possible reconciliation could come unstuck is if Harry goes ahead with releasing his memoir – which is expected to come out in November.
"It's very difficult to see how such a book could be handled without causing controversy that would be distressing to the royal family," Fitzwilliams said.
There have been calls for the book to be delayed in respect for Her Majesty's memory.