Emotions run high in London as thousands queue to see Queen's lying-in-state
Thousands of royal supporters lined the streets as Queen Elizabeth II's body was brought from Scotland to Buckingham Palace on Tuesday.
Around Hyde Street Corner and Constitution Hill, some waited since midday for a last glimpse of Her Majesty and her family members.
Sue Neenan was happy to sit through the rain and wait for the fleeting moment the Queen's hearse would drive past, when she expected she would cry.
"I just had this undying urge to be here today," she said.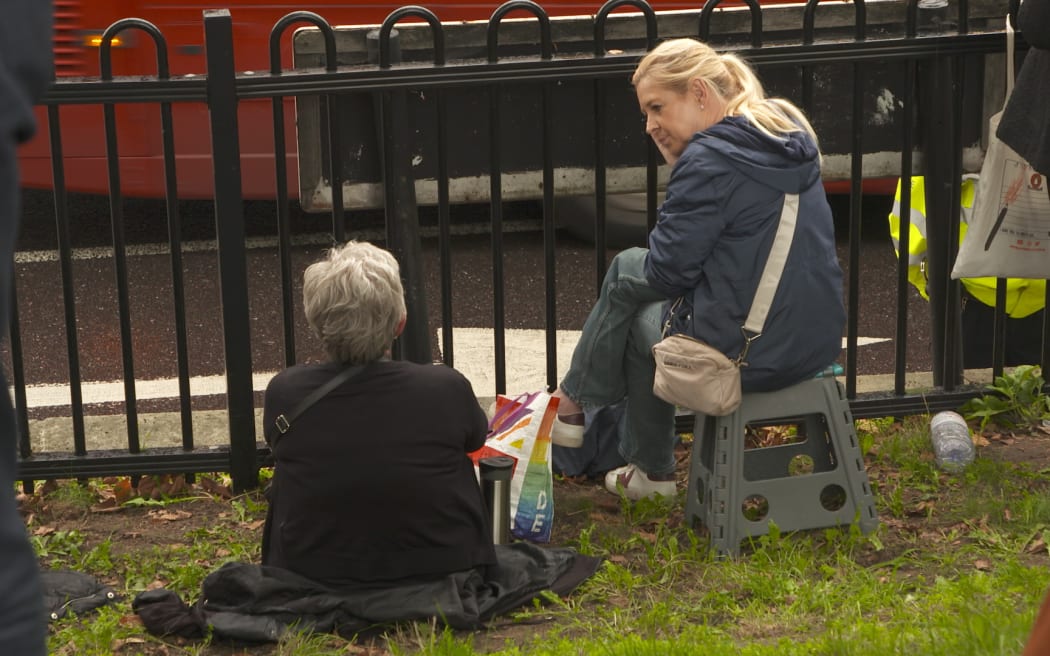 Similarly, Deborah James found it to be an emotional time – with emotions rising like a "crescendo".
She chose to join Tuesday's crowds because she was "not sure" about the "24-hour queuing" to see the Queen lying-in-state.
"This is our Queen and I think the queues are going to be incredible," James said.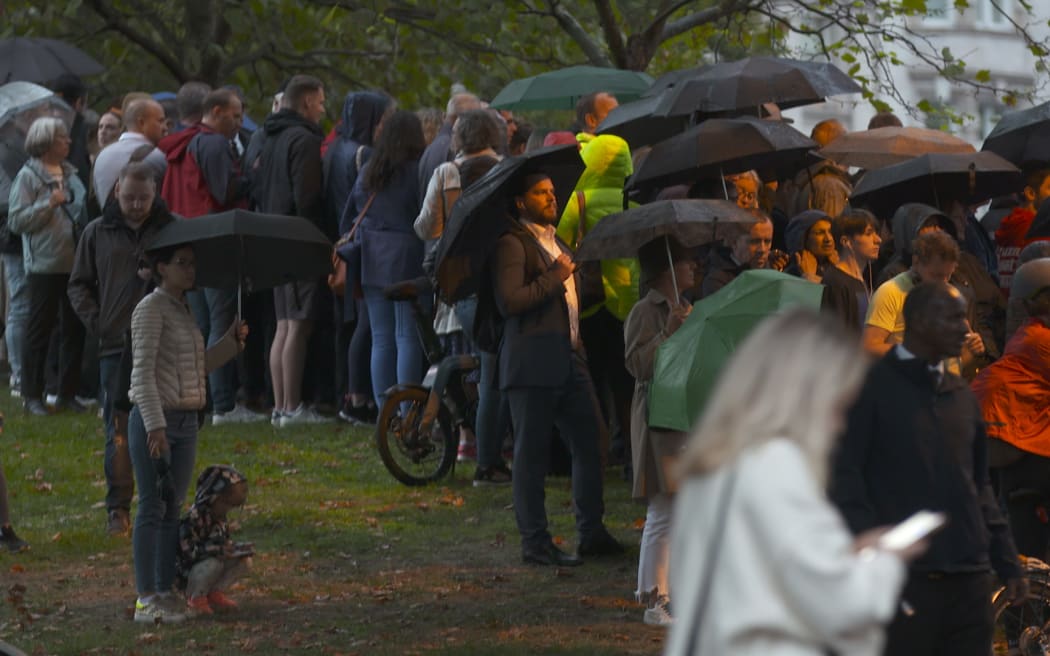 Thousands of people gathered at Constitution Hill in hopes of getting a glimpse of the Queen's hearse. Photo: RNZ / Nick Monro
The Welshwoman felt like the Queen's death was bringing the United Kingdom together.
"Scotland wants another referendum to vote out [of the UK], and so I'm really pleased that she passed away in Scotland and that Scottish people have had so much involvement in the end of her reign," James said.
Dotted among the crowds were a number of tamariki; their parents hoping they would remember this historic day.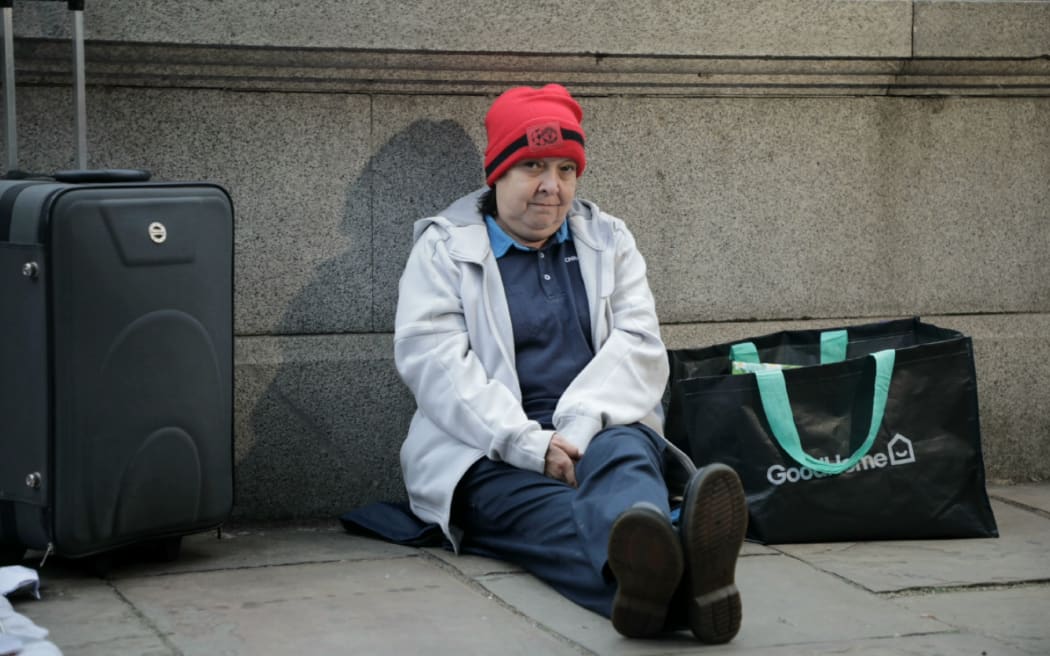 Mums Sophie Cogan and Mia Prior had brought their children along with a group of other families from their local school.
Cogan was "a bit wary" about bringing her children along but said the fact it was the Queen's last night at Buckingham Palace was what made the decision for her.
Prior said she had taken her children to lay flowers when Prince Phillip died so she felt a responsibility to do so for Her Majesty.
"It literally felt just like someone from your family had died," she said.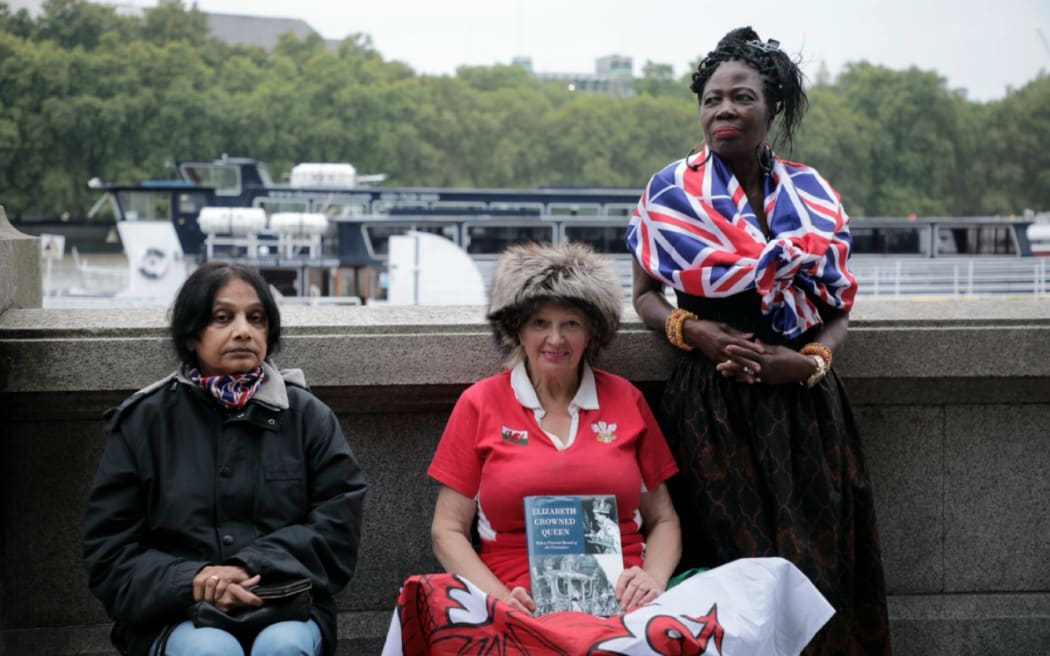 There were others like Lewis Waugh, who was out for a run and accidentally stumbled upon the scenes.
Visiting from Dorset, he decided to call his mum and find her to make the most of what was happening – "all a win really", he said.
However, near the scenes of commemoration were instead ones of protest just a few kilometres away at Parliament Square.
Anti-monarchists stood with signs calling for an end to the monarchy – a day after a number of people holding similar signs were threatened with arrest.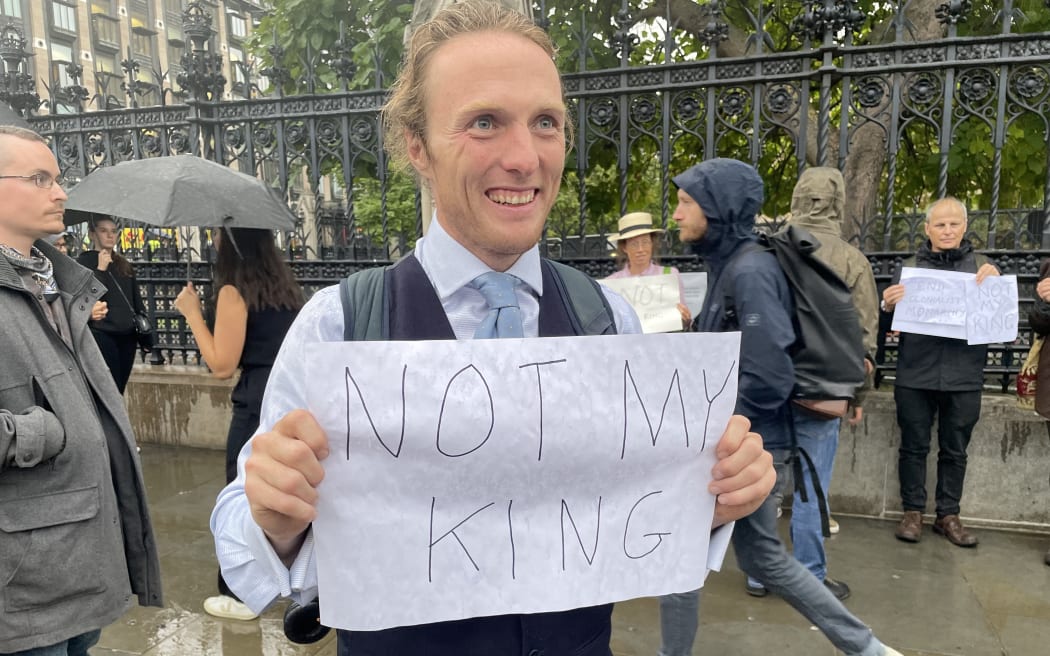 Anti-monarchist protester, Paul, holds a sign reading 'Not My King' in London. Photo: RNZ / Corin Dann
One of those was Paul Powlesland, whose sign read 'Not My King'.
He said their protest was showcasing that "you can let people mourn the Queen, respectfully, and have their grief" but that with King Charles III's succession to the throne they also have "a right to object to that, peacefully".
Back at Constitution Hill, the crowds had only grown and it was 8pm when the hearse drove past – cheered on by the crowds and out of sight within seconds.
The Queen's body was taken to Buckingham Palace, where it will stay overnight, before being taken to Westminster Hall on Wednesday afternoon to lie in state for four days.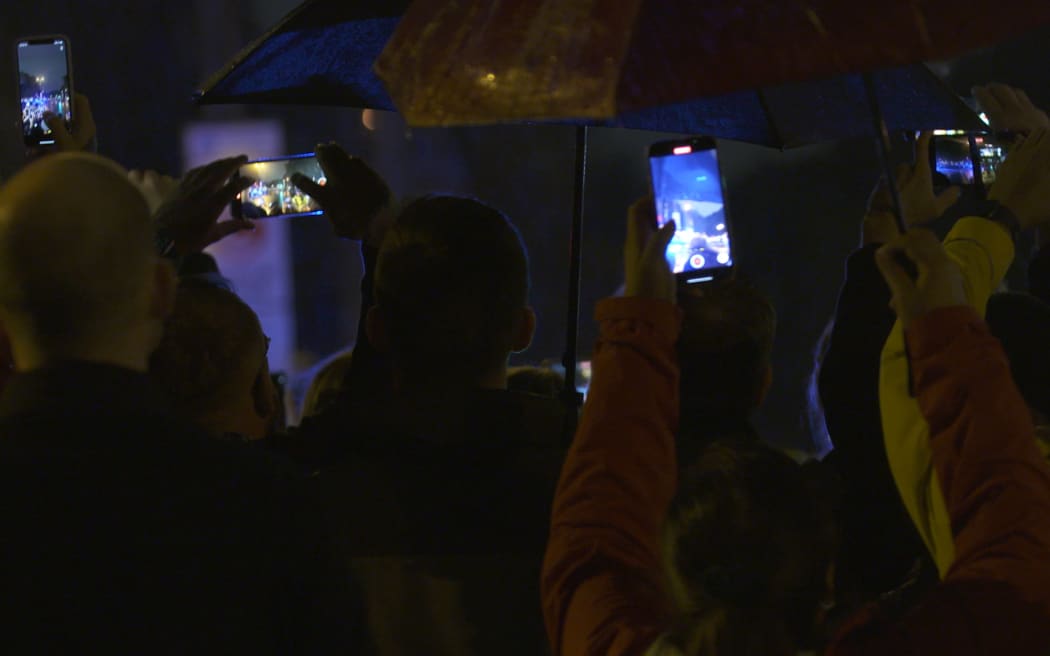 By dark and rain, crowds tried to grab a picture of the hearse en route to Buckingham Palace. Photo: RNZ / Nick Monro